Plan a Trip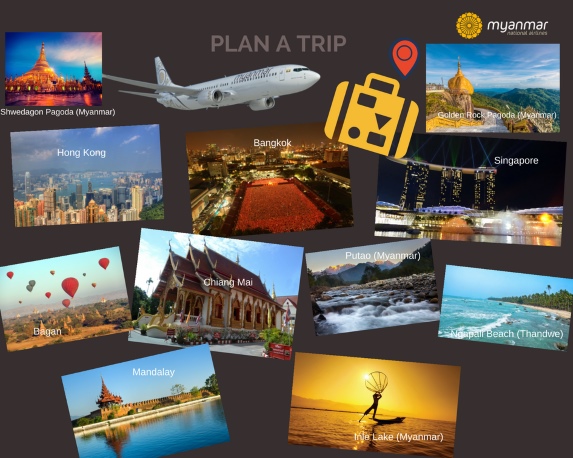 Fly with our four brand new 737-800 Boeing aircrafts from Yangon to Asia's beautiful cities – Singapore, Hong Kong, Bangkok, Chiang Mai, Bodh Gaya, Chengdu, Kunming and enjoy the best of Myanmar hospitality.
Our modern fleet of jets and turbo-prop aircraft will fly you from Yangon to 27 other domestic destinations from Kawthaung in the South to Putao in the North, and from Sittwe in the west to Tachileik in the east.
We service a number of flights between each destination to provide you with the most comprehensive network of services in Myanmar.
Reservations & Ticketing
Your ticket can be purchased through our website with either credit card or debit card. The payment for our flight tickets can also be made in cash at any of our ticketing counters and travel agents.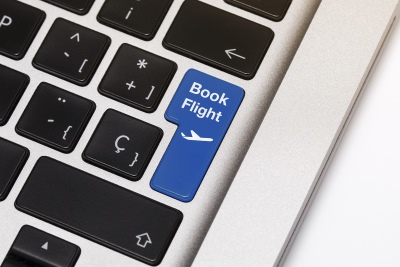 Child Passengers
When purchasing flights for children (2-11 years old) and infants (under 2 years old), proof of age must be provided.
Tickets are non-transferable and non-endorsable.
All tickets must be booked on specific flights.
Payment
You should pay for your flights at the time of booking, however a time limit for payment is printed on your Reservation Confirmation.
If you change your flight you may be required to pay a change fee plus any difference in fare. The same fare is not guaranteed and ticket exchanges are allowed for the same sector only. Ticket exchanges must be made within 90 days of the original booking.
Refunds
You may claim a refund if you purchase a Business, Premium and Economy fare subject to fares conditions.
The maximum airline liability in event of denied boarding, delayed or cancelled flights is limited to the price paid for the ticket.
Expired tickets have no value, cannot be refunded, cancelled or exchanged.
Television Sets
Maximum allowable TV set as checked in Baggage is restricted to 42inches size / 106 CM & must be packed in its original strong packaging standard.
An indemnity form or Limited Release liability will be required to be signed by passenger for the carriage of such items.
Car Hire
Book your car hire with MNA - in partnership with

and enjoy these great benefits:
Great rates and flexibility
Combine your flight with a car and save
Convenient and extensive choice of locations
All mandatory charges included
24 hour customer support
Myanmar eVisa
Simplify your Visa needs by using the Myanmar Government's eVisa process online which is available to all our guests travelling for business or leisure. Please note that it is your responsibility to ensure you have all the necessary documentation which permits you to enter Myanmar.
Visa on Arrival
Available for passport holders of the People's Republic of China, Hong Kong, and Macao.
Click Here for more Information
Visit the eVisa website provided by Myanmar Ministry of Immigration to check and see if you can use this service.
Special Requests
MNA is committed to providing all our customers with a convenient and seamless flight. This includes customers requiring medical assistance, mobility assistance, and travelling with infants. We have special arrangements in place for the carriage of Unaccompanied Minors.
Please let us know if you are a wheelchair user, or need us to provide a wheelchair in the airport, and we will also arrange pre-boarding.
Travelling with a medical condition can sometimes be stressful and we will do everything possible to ensure you are safe to travel. Some medical conditions will require you to complete a form, on the basis of which we will clear you for travel.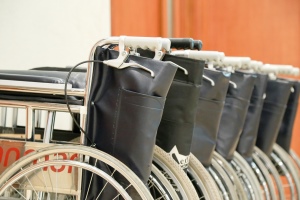 child passengers
Prior authorisation and arrangements are also required for children travelling alone and can be set up through our Customer Service Centre, at least 72 hours prior to departure.
For any special assistance please contact our Customer Service Centre as soon as you book your flight, or no later than 72 hours before departure.
Book our unique Mingalabar Service & Limo at Yangon Airport to add a touch of luxury to your visit to the Golden Land.