MNA Club
Myanmar National Airlines is pleased to offer its customer loyalty program (frequent flyer program) – mna club. All our valued passengers are welcome to join – membership is FREE and it only takes a few minutes to enroll. With membership in mna club, you will earn reward miles as you travel to most of our destinations. The reward miles can be used to get FREE tickets, extra baggage allowance, upgrades and many other benefits.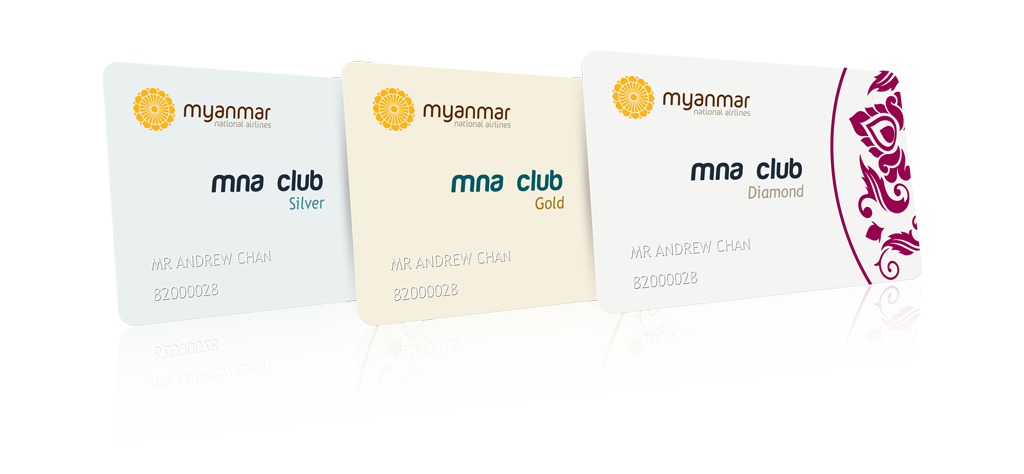 Earning Miles
Every time you fly, you can earn miles based on flights travelled. You must enter your mna club number at the time you make your reservation or inform at check-in counter to insert your number.
Miles will automatically be rewarded to the member's account within 14 days after completed travel on qualifying MNA flights.
Members can accrue the actual miles for all international sectors and domestic sectors.
Miles Rewarded
Miles rewarded are adjusted automatically according to the Cabin Class, RBD and Fare Family that was booked.
miles rewarded per cabin class
Economy Super Saver
25%
1/4 Miles Rewarded
Economy Saver
50%
Half Miles Rewarded
Economy Discount
75%
3/4 Miles Rewarded
Economy Flexi
100%
Normal Miles Rewarded
Premium Super Saver
100%
Normal Miles Rewarded
Premium Flexi
125%
25% Miles Bonus
Business Super Saver
140%
40% Miles Bonus
Business Flexi
150%
50% Miles Bonus
Bonus Miles
Bonus Miles may be rewarded according to Tier Status
membership tier level
SILVER
0%
No Bonus Miles Rewarded
GOLD
25%
25% Miles Rewarded
DIAMOND
50%
50% Miles Rewarded
Child Passengers
Child MNA Club members will be rewarded miles at a rate of 75% of the adult ticket miles.
Unused miles will expire automatically after 2 years.
In the event MNA Club membership number is not included at the time of ticketing, members will have the option to request reward credit after the travel provided such requests are made within 45 days of the travel date. Requests received later than 45 days after travel date will not be rewarded.
Redeeming Miles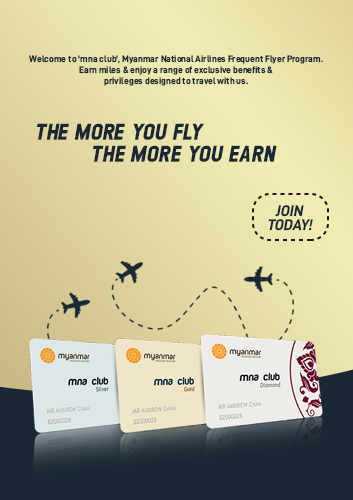 MNA Club Members can redeem either a one-way trip or round trip according to the miles you earn. The base fare is free and you pay only Taxes and Surcharges to issue the ticket.
MNA Club Miles can be redeemed for both international and selective domestic flights, operated by Myanmar National Airlines (excluding charter flights).
MNA Club Redemption Tickets
Applicable for date change with change fees
Non-refundable
Non-rerouteable
Non-transferable
Non-endorsable
how many miles are required to redeem for travel?
Route
Economy
Premium
Business
Route
Economy
Premium
Business
RGN/SIN
9000
12000
18000
NYT/MDL
1900
2400
3000
RGN/HKG
9000
12000
18000
MDL/NYU
1000
1300
1600
RGN/BKK
5000
8000
12000
NYU/MDL
1000
1300
1600
MDL/BKK
9000
12000
18000
MDL/HEH
1200
1500
1800
RGN/MDL
4500
5500
6500
HEH/MDL
1200
1500
1800
MDL/RGN
4500
5500
6500
MDL/THL
3600
4600
5600
RGN/NYT
2500
3200
4000
THL/MDL
3600
4600
5600
NYT/RGN
2500
3200
4000
MDL/KET
3200
4000
4800
RGN/HEH
3500
4500
5500
KET/MDL
3200
4000
4800
HEH/RGN
3500
4500
5500
MDL/MYT
3600
4600
5600
RGN/PBU
10000
12000
15000
MYT/MDL
3600
4600
5600
PBU/RGN
10000
12000
15000
MDL/PBU
5500
6700
8300
RGN/MYT
8000
10000
12000
PBU/MDL
5500
6700
8300
MYT/RGN
8000
10000
12000
HEH/NYU
1700
2100
2500
RGN/NYU
4000
5300
6300
NYU/HEH
1700
2100
2500
NYU/RGN
4000
5300
6300
HEH/KET
2500
3200
3800
RGN/THL
4500
6000
7000
KET/HEH
2500
3200
3800
THL/RGN
4500
6000
7000
HEH/THL
2800
3500
4200
RGN/KET
5500
6800
8000
THL/HEH
2800
3500
4200
KET/RGN
5500
6800
8000
KET/NYT
3400
4300
5200
RGN/MGZ
5000
6300
7500
NYT/KET
3400
4300
5200
MGZ/RGN
5000
6300
7500
MYT/PBU
1800
2300
2800
RGN/KAW
7000
9000
10500
PBU/MYT
1800
2300
2800
KAW/RGN
7000
9000
10500
MGZ/TVY
1600
2000
2400
RGN/TVY
3300
4100
5000
TVY/MGZ
1600
2000
2400
TVY/RGN
3300
4100
5000
MGZ/KAW
2200
2800
3400
RGN/AKY
4300
5500
6500
KAW/MGZ
2200
2800
3400
AKY/RGN
4300
5500
6500
KAW/TVY
3800
4800
5800
MDL/NYT
1900
2400
3000
TVY/KAW
3800
4800
5800