Experience MNA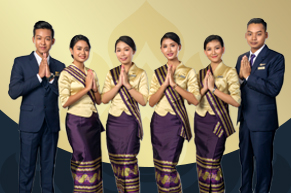 Mingalabar
Wherever you go in Myanmar, people will wish you Mingalabar. It is more than just a word to us - it's our welcome to you as valued guests. MNA service epitomizes the warmth and generosity of our people, welcoming everyone from around the world to our beautiful country.
We want to make your journey as smooth and seamless as possible. Whether you are flying for business or pleasure, you can rest assured that we have streamlined our passenger procedures in order to meet your needs as efficiently as possible.
Come and be our guests on your magical Myanmar experience. Whether it's the sights of Yangon or Bagan, the beaches of Ngapali or the un-trodden paths of Shan State that you want to experience, MNA has the key.
Leading the skies
We fly to more places in Myanmar than anyone else, with the largest and most modern aircraft fleet of any airline in our country. We've invested in our product, our service and our people to deliver you a world-class experience flavoured with traditional Myanmar hospitality and charm.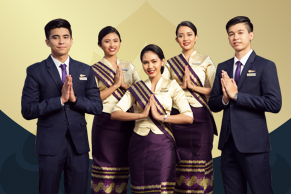 ---
Booking made easy
Click: Book and manage your flights online and stay in control of your itinerary and your schedule.
See us: Visit our dedicated Travel Centres for bookings, help and assistance.
Call us: Our Customer Service Team in Yangon & Singapore are only a phone call away.
Fare Choice
Whatever your budget we have a fare that meets your needs. Choose from our best value Saver fares through to our ultimate Flex fares to suit your travel requirements or even upgrade yourself to our totally flexible Premium Economy and Business Class.
Fly through the Airport
Our dedicated airport teams will ensure you check in quickly and whizz through onto your flights with the minimum of fuss. Our unique check in and boarding gate system ensures your seat is reserved and your baggage is securely loaded ready for collection at the other end.
Myanmar at your fingertips
MNA flies to more places in Myanmar than any other airline. With 26 destinations and convenient schedules we put the whole of Myanmar within your reach at the click of a mouse.
Inflight Hospitality
Step aboard our flights to be greeted by our charming and gracious crew demonstrating Myanmar warmth and hospitality at its best. Enjoy tasty food, tea, coffee and soft drinks with our compliments.
Stay in touch
As a valued guest and friend of Myanmar we would like to know about your experience so we can further improve our service. Email us at tellus@flymna.com or better still register your details here.
---
Cabin Classes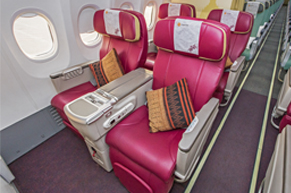 Business Class
International Business Class, on our brand new 737-800 aircraft, offers you an 'Executive Jet' experience at business class fares.
Stretch out with 43 inches of legroom in your own separate cabin with aisle and window seats available – no middle seats. Your dedicated cabin crew will offer a superb meal with your choice of Myanmar or Asian dishes complemented by well-selected wines, beers and soft drinks.
You get your own in-seat entertainment system so you can choose from a selection of films, TV and music all at the touch of the screen.
At Yangon your complimentary Mingalabar Service offers Priority Check-In and Boarding, Fast Track Immigration & Security, Mingalabar Lounges.
Premium Economy
Business Class quality at Premium Economy fares provides you with a touch of luxury when you fly internationally on our brand new 737-800s or on Myanmar domestic routes on our Embraer 190 'whisper jets'.
From Priority Check-In and Boarding to 36 inches of legroom on board and complimentary food and drink, Premium Economy offers you much more comfort and a stress-free flight. In-flight entertainment is delivered straight to your laptop, tablet or other devices when travelling on our brand new 737-800s.
Upgrade to Business Class and get our complimentary Mingalabar Service to enjoy unique experience at Yangon as well as on board.
Economy Class
If value for money is your priority then fly Economy with us with Saver and Flexible fares, comfortable seats, complimentary food and drink plus streaming in flight entertainment delivered straight to your laptop, tablet or other devices when travelling on our brand new 737-800s.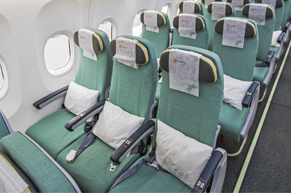 Seat Selection
If you're looking for more personal space, or just prefer an aisle or window, select your seat before you fly either when Booking Online or through the Manage Booking section of our website. Have a look at our seat maps for the aircraft you are flying on, which will help you to make your choice. Then sit back, relax and let us make your flight exceptional.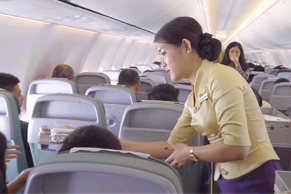 In-Flight Entertainment airstreamUB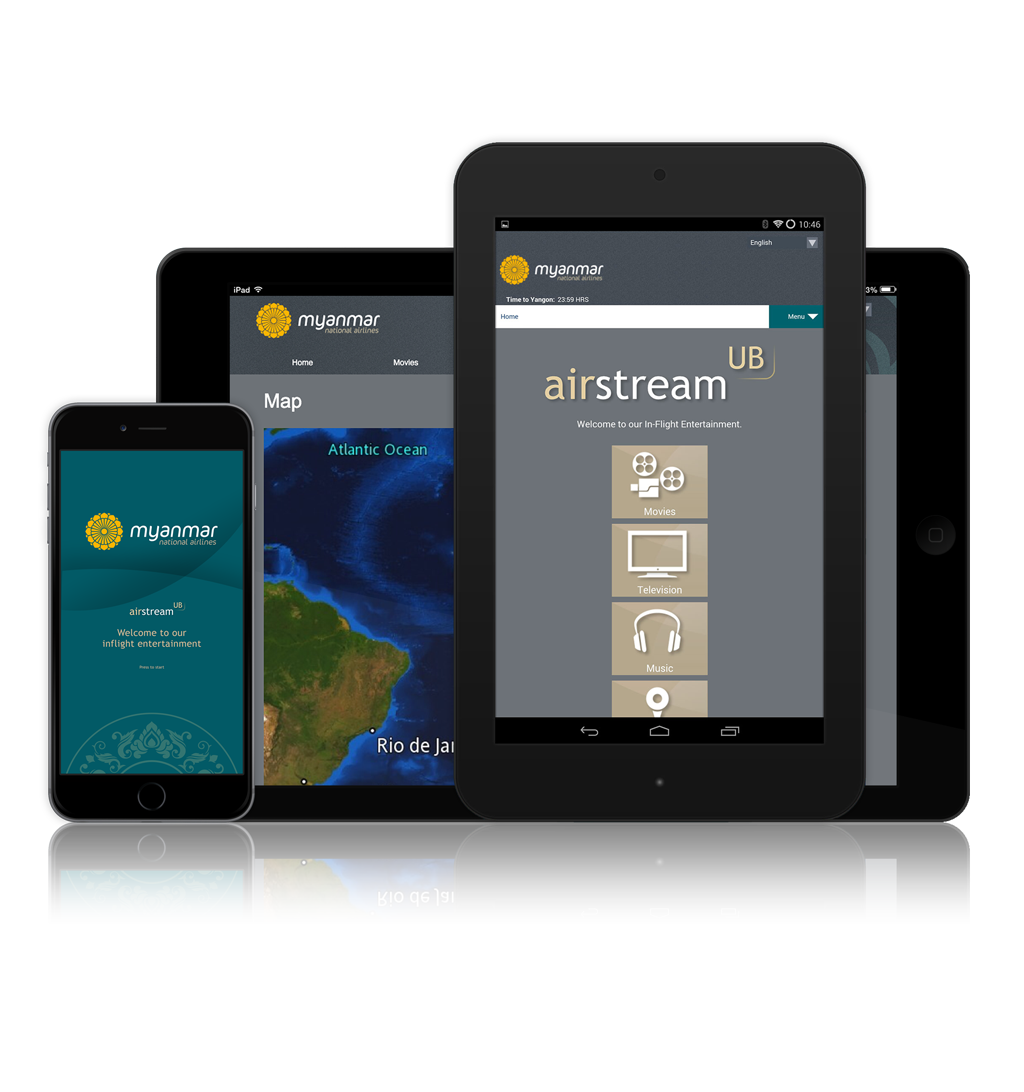 airstreamUB is the MNA in-flight entertainment system. You can watch movies and TV shows, listen to music via in-seat monitors - or on your own device over a wireless connection onboard the aircraft. airstreamUB is available on our latest aircraft – free of charge.
Passengers in business class also have the option to access airstreamUB on the in-arm monitor fitted in their seat.
Smartphones & Tablets
Please remember to download the app before you board your flight.
Windows & Mac
Laptop users must have the latest Adobe Flash plugin installed (v10.2 or later). For some content, you may be prompted to download and install an encryption plugin. To do this, simply connect to MNA's onboard Wi-Fi, visit www.airstream-ub.com in your browser, and follow the instructions provided.
Mingalabar Service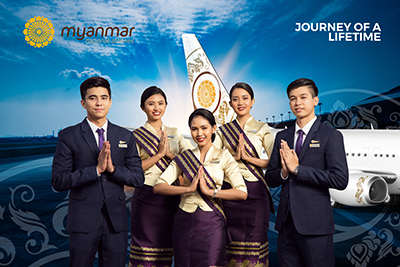 You know what its like when you arrive at the airport and you just want to be on your way or to get home as soon as possible. So do we!
So we want to make your Yangon Airport experience as smooth as possible with our unique Mingalabar Service to whisk you through the formalities on arrival, departure and when you have connecting MNA flights.
On arrival you will be met by one of our team at the aircraft door to provide assistance with your bags, a helping hand with children, and even a wheelchair with our compliments if you need one. You will then be Fast Tracked through all the arrival formalities to your transport or waiting friends.
If you are connecting on MNA, then enjoy the same great service and we will also make sure your checked baggage is efficiently transferred onto your next MNA flight.
On departure at Yangon, we will meet you and treat you to our Priority Check-In service followed by speeding you through the departure formalities including Immigration and Security. Assistance with bags, children and wheelchair provision is always available just let us know what you need.
A bit of time to spare before you board? Then relax in our Mingalabar Lounges in our International or Domestic Terminals with a selection of tasty snacks, beverages and complimentary Wi-Fi to keep you online.
Our unique Mingalabar Service is a complimentary service for Business Class travelers on all our international flights.
Mingalabar Limo
Currently, Limo service is not available, and we look forward to resuming this service in near future.
Service Teams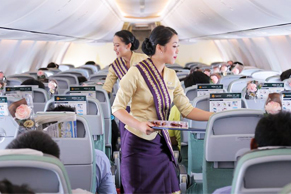 At MNA we know you want your journey to be as smooth as possible, so we have teams of people on the ground and in the air dedicated to offering you the best of Myanmar hospitality and service.
Our main Travel Centres are based in Yangon and Singapore. In Yangon, you can drop by to make or change a booking, get some travel advice or just admire the grandeur of our building dating from the colonial era - built in 1868.
Our Yangon Customer Service Centre is also located within the building handling your calls, emails and messages. Our Customer Service and Airport Teams have been recently trained in our new reservation and ticketing system which allows us to offer you simple and efficient bookings.
Our Flight and Cabin Crew teams have been rigorously trained to provide the highest levels of safety and security, with traditional Myanmar hospitality and grace.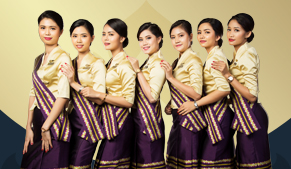 We want you to have the Journey of a Lifetime so if we can do anything to make your flight even better, just let us know.
– Mingalabar from MNA.
Ancillary Services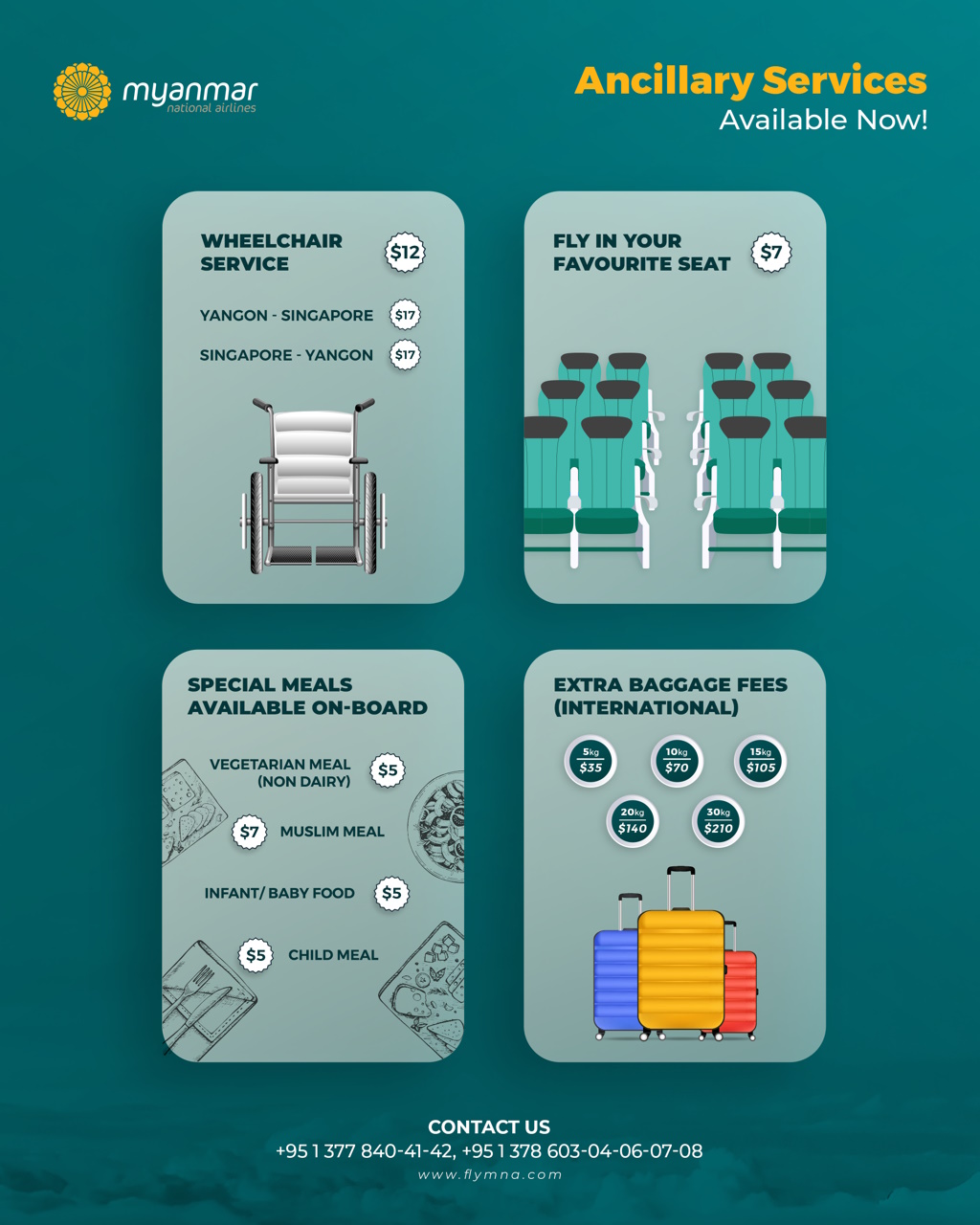 Ancillary Services FAQ

Q. When/where can ancillary services be purchased? A. All ancillary services can be purchased before/after the ticket reservation or ticket issuance at UB's sales agents and website www.flymna.com so long as requested services are available.

Q. Will purchased ancillary services be carried forward when ticket exchange? A. All purchased ancillary services will be carried forward automatically when ticket exchange, but only "Seat Selections" need to be selected again during exchange process (OR) it will be charged again if "Seat Selections" is requested after exchange process has been completed.

Q. Are purchased ancillary service fees reusable for difference fare/change fee during ticket exchange process if I don't need them on new exchanging flight any longer? A. All purchased ancillary service fees are reusable for difference fare/change fee by unselecting the prepaid items during ticket exchange process. The amount of unselected ancillary service fees will be offset and you only need to pay the balance for the difference fare/change fee.

Q. Are ancillary services switchable one another after ticket reservation/ticket issuance? A. All ancillary services are switchable one another only during reservation status but can't be switched after ticket issuance.

Q. Are ancillary services refundable and how can I claim refund? A. All ancillary services are non-refundable for fully or partially unused services unless failure to provide purchased services by carrier. You just need to fill up claim form at check-in counter providing a credit card number and the amount of unprovided service fees will be refunded back into the passenger's credit card accordingly.

Q. Can I change my selection after purchasing a seat? A. Yes, you can change your seat selection after making a purchase for a paid seat. You will pay the equal or higher price for a new seat selection

Q. Can I change my selection after purchasing a special meal or pre-sale baggage? A. Additional changes cannot be made after you purchase special meal selection or pre-sale baggage options.